1989 AEROSPATIALE ATR42-300
For Sale
1989
AEROSPATIALE ATR42-300
N722KA
122
Smyrna, TN USA
For Sale
1989
AEROSPATIALE ATR42-300
N722KA
122
Smyrna, TN USA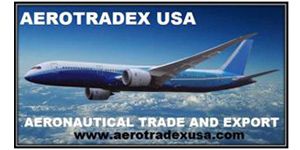 Contact This Seller
General Specs (cont.)
45595
39282 SNEW
35101 SNEW
7431 SMOH
6840 SMOH
11500 lb
Used
2011
2011
BTH
46
Additional Classifications
Detailed Description
1989 ATR 42-300QC 
Brough to you by Aerotradex USA as an exclusive agent on behalf of the owner. 
The airplane is located at the owner's hangar in Smyrna Tennessee USA.
Please review the attached specs and pictures.
Additional Mods: 
•  Cargo Quick Change version (Mod 1769 Pax) with ball mats, rollers and 9 containers  
•  Cargo Compartment AFT and front 
•  RNP approach single HT1000 GNSS
•  Re-enforced cockpit door 
•  Gravel Kits  
•  42 Leather Seat Configuration  
•  Toilet / lavatory compartment 
•  -54C envelope 
•  Mod 4076 Heavy weight landing 
•  RNP approach single HT1000 GNSS 
•  Galley AFT 
•  Passenger briefing system (Becker digital) 
•  Battery and engine TANIS heaters 
•  3rd observer comm full station
The airplane can be used as Passenger/Cargo /Combi.
The price was recently reduce from $1,250,000 to $ 1,000,000 for Q1 2023 quick sale.
Avionics / Equipment
Avionics / Gyro / Systems / Instruments installed
NEEDS ADS-B 
Type of Equipment             No. installed           Make                       Type
COM	                                   2	                     Collins	         VHF22C
VHF NAV	                           2                        Collins	          VIR32
UHF NAV	                           2	                     Collins	         VIR32
Transponder	                           2	                      Collins	          TDR94D
DME	                                   2	                      Collins	          DME42
ADF                             	           2	                      Collins	          ADF60
AHRU	                                   2	                      Honeywell	  AH600
FDAU	                                   1                     	SFIM	    36045171E01
AFCS	                                   1	                       Sperry	        FZ600
DFDR	                                   1	                        Sundstrand	2000 series
CVR	                                   1	                        Fairchild        	A100A
ELT (406 MHz)	                   1	                        Socata	         ELT96A256
RCAU	                                   1	                        TEAM	         CAU2583
Weather Radar Transceiver	   1	                        Sperry              WX800
Radar Altimeter	                   1	                        TRT	                 ERT011
RNAV	                                   1	                        Honeywell	HT1000
MKR	                                   2	                        Collins	         VIR32
TCAS	                                   1	                        Collins	         TTR921
ADC	                                  2	                         Honeywell	AZ810
Symbol generator	                  2	                         Honeywell	SG-811
EGPWS	                                  1	                         Honeywell	Mk VIII
EFIS Display	                          4	                        Honeywell	ED800
Airframe
1989 ATR42-300 QC 
(Quick Change mod/option)

Additional Mods: 
•  Cargo Quick Change version (Mod 1769 Pax) with ball mats, rollers and 9 containers  
•  Cargo Compartment AFT and front 
•  RNP approach single HT1000 GNSS
•  Re-enforced cockpit door 
•  Gravel Kits  
•  42 Leather Seat Configuration  
•  Toilet / lavatory compartment 
•  -54C envelope 
•  Mod 4076 Heavy weight landing 
•  RNP approach single HT1000 GNSS 
•  Galley AFT 
•  Passenger briefing system (Becker digital) 
•  Battery and engine TANIS heaters 
•  3rd observer comm full station
The airplane can be used as Passenger/Cargo /Combi.
Toilet / lavatory compartment
46 Leather Seat Configuration
Galley aft
Cargo Compartment aft and front
Pax / Cargo Quick Change version with ball mats, rollers and 9 containers
Passenger briefing system (Becker digital) Battery and engine TANIS heaters
3rd observer comm full station
Interior condition 8 out of 10
Engines / Mods / Prop
Engine Make: Pratt & Whitney Canada Engine Model: PW120 Turbines
Present Approved Engine TBO     On Condition
                                  L/H Engine             R/H Engine
Serial Number	  120608	                   121154
TSN 	                39282 FH                35101FH
TSO                         8775 FH                 10377 FH
TSHSI	                8775 FH	                4456 FH
First Limiter	          911 FL	                9675 FL
ENGINES ON CONDITION

Propeller Make / Model                  Hamilton Standard 14SF5

Present Approved Prop TBO        10500 Hours / 7 years
                                                             L/H Prop                       R/H Prop 
Serial Number                                     821207                          881007
Propeller Hub 821+Actuator           2018-09-30/6604hr     2018-09-19/5700hr
 
Blade #1                                    2022-09-25/7431hr         2020-12-10/9514hr
Blade #2                                   2022-09-25/10492hr      2022-04-19/9963hr
Blade #3                                   2020-11-17/8580hr           2019-07-30/6840hr
Blade #4                                   2020-02-13/7326hr         2019-11-30/7447.5hr 
NEEDS PROPS OVERHAUL DUE TO CALENDAR OUT
Interior / Exterior
INTERIOR PASSENGER CABIN:
A/C Configuration & Optional Equipment
Toilet / lavatory compartment
46 Leather Seat Configuration
Galley aft
Cargo Compartment aft and front
Pax / Cargo Quick Change version with ball mats, rollers and 9 containers
Passenger briefing system (Becker digital) Battery and engine TANIS heaters
3rd observer comm full station
Interior condition 8 out of 10

PAINT
Overall White and Blue with  Green and Blue  stripes
Good Condition 8 out of 10