Filter By
Back To Top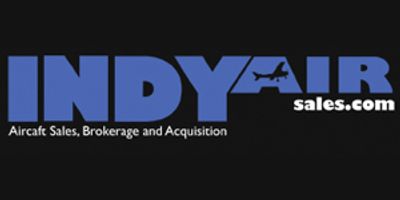 Indy Air Sales
282 Airport Rd
Anderson , IN USA 46017
Contact Information
Mark McLaughlin
(765) 378-0303
Our mission is to, partner with you to obtain a fair, honest value for your airplane. Whether you are selling or buying you can trust the Indy Air Sales team. We treat you like we would like to be treated, honestly and fairly. With over 70 years of aviation experience on the team, we know airplanes. We specialize in single and twin piston engine aircraft. We make it our mission to understand every single aircraft inside and out whether we are buying it, brokering it or selling it, you can rest assured we have done our research. You can trust the you are receiving the best information available. Take a minute to get to know us. Give us a call, send us an email it would be our pleasure to work with you in completing an aircraft sale, buy or broker.

Buying. Selling. Trading. We do our very best for you.
Showing 9 aircraft listings most relevant to your search. Additional aircraft listings were filtered out that may be similar, click here to view.
Use the Side Filters to your left to select only the makes or model / groups relevant to your search.
Use the "Filter By" button at the bottom of your screen to select only the makes or model /groups relevant to your search.
Beautiful Cirrus SR20 with a Brand New Continental Engine! Cirrus Perspective Avionics with 12" Garmin G1000 displays. Air Conditioned. Cruises at 150... More Info
A Like New 2007 American Champion 7EC Champ! It's a modern version of the venerable Champ of the 1940's updated with Metal Wing Spars, Toe Brakes, and a 1... More Info
50HP Cherokee with a mid-time engine and fresh annual inspection. Wing spar AD just complied with; not due again until 2030. Desirable model with baggage... More Info
Low time Super Cub with a low time 150hp engine. No damage history. Complete logs. Good Ceconite and paint. King KX170B Nav/Com Sigtronics Interco... More Info
Possibly the lowest time Cessna 150's in existence, and one of the last Aerobats manufactured! Only 170 hours since top overhaul with new Titan cylinders.... More Info
Reg# Not Listed
TT: Not Listed
One of the lowest time Archers in existence! No damage history, hail marks, or corrosion. Complete logs! Fresh Annual Inspection. Lycoming Factory Reman! ... More Info
This is one of the last batch of Mooney M20C Ranger's built. By 1977 the new Mooney 201 was in production, so lots of 201 styling cues were incorporated... More Info
SOLD: Very nice Aztec with lower time engines! 192 Gallons - Cruises at 165 knots with an 1800# useful load and a range of 1300 miles. A very straightfor... More Info
A super clean Garmin equipped Mooney M20F with Mooney 201 Windshield, Instrument Panel and Wing Root Fairings! Rajay Turbocharger provides high altitude cr... More Info